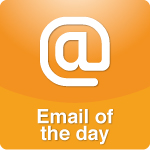 April 12, 2016The Wisdom of Parents
Hi Dr. Laura:
It's my 22nd wedding anniversary today. I was married and divorced twice before my current marriage, and my husband was married and divorced once before our marriage. We had no kids from our previous marriages, and we have two daughters together.
Our 20 year old daughter sent us this text today. She's graduating college this year and going to law school after that. She is an ethical, decent, loving, strong person, and much of that has to do with YOU because of the influence your life's work has had on us. Here's what she had to say:
Happy Anniversary! Thank you for working hard in your marriage. You both have taught me what a true team looks like regardless of how hard it is. You've made me into the young woman I am today and I greatly appreciate it. Thank you for raising me to do the right thing regardless of what others think or want. I love you and hope you have a fabulous day together.
She and her sister listened to you as I did when I was home with them growing up. When I went to work, their Dad was home with them. She gives us the credit in this text, but she knows, as I do, that the wisdom she gained was delivered to me by YOU, Dr. Laura. Thank you!
Nilda
Posted by Staff at 10:59 AM