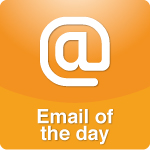 April 29, 2013A Much Needed Wake-up Call
Dr. Laura,
You and your show never cease to humble me and teach me something. I am a long time listener, and about 2 years ago, your book "The Proper Care and Feeding of Husbands" changed and saved my marriage.
I was listening while I was getting ready for my 31 week pre-natal appointment. I totally related to a caller who needed advice about how to be nice to her husband when pregnant, even though her hormones were taking over. Since being pregnant myself, I too had fallen into a bad pattern of this, and your advice was EXACTLY what I needed to hear! Telling her to imagine she only had one month left with her spouse before he died hit home with me. From that day on, it brought my perspective back to where it should be. Any time I feel like nagging my husband, your words pop into my head, and I make the decision to keep my mouth shut and treat kindly! Something so simple has made a huge impact. I see a difference in my husband, and I am much happier as a result. I heard you tell another caller "this too shall pass" so I try to remind myself of that as well, when I am having a hard pregnancy day.
Thank you so much for your show. It has truly been a blessing to me, and has taught me so much! You make me feel proud to be my husband's girlfriend, and in just 8 short weeks, my kids' mom not only to a loving 5-year-old son, but a brand new baby girl. Thank you again, and an early Happy Mother's Day!
Sincerely,
Julia
Posted by Staff at 10:27 AM