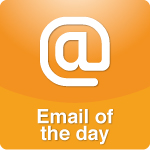 July 18, 2012May One Day You Be Rewarded for Your Parenting
Our son, Chris, was married this past weekend in Newport Beach, witnessed by 190 of our friends and family. He and his lovely bride (both 29) departed for their honeymoon to the Caribbean Monday night. On Tuesday, my husband and I received a package in the mail from our son. In it was a beautifully framed photo taken of the 3 of us last Wednesday at a family "kick-off" dinner for 5 days of wedding festivities. Attached to this gift was a thank you card with a personal note from our son written the day prior to the wedding.
I'm sending this to you because your listeners (and the world) need to know that if you "choose wisely, treat kindly" and work together to make your family your number-one priority, they, too, may someday be rewarded with a letter like this. It truly is "worth it": Quality in, quality out.

Kathy
Here's the note:
Dear Mom and Dad,
Although tomorrow I am marrying the woman I love, I know I would never be able to enjoy such happiness without wonderful parents. I owe this opportunity to start a great life to your love and support, and to the examples of how to live which you have provided to me for my entire life. I have felt nothing but love throughout this entire wedding process and I enter the final stage full of excitement for the future.
I realize this wonderful life full of love and support you gave me represents not only a privilege but also an obligation to carry on the high family standards that have been set by your example, and I enter this next phase of my life feeling eager and prepared.
Thank you for always being and continuing to be such wonderful parents.
Love,
Chris
Posted by Staff at 2:36 PM