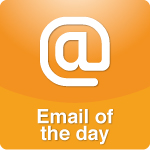 September 3, 2013Mother-in-Law
Dear Dr. Laura,
Have the past few weeks of calls been about crazy mother-in-laws or am I just being sensitive to them? AND then to hear your son may have found the one and you discuss your role in their relationship, I had to share with you something I did based on what I had learned by being a long time listener.
When my son was married, I knew our relationship would change. I was up to date on the happenings in his life, we communicated regularly - several times a week at least, and he asked advice about stuff fairly often.
But I made a plan - an outward effort of an inward heart issue. At the rehearsal dinner, I wore this really cute apron with the word Mom across the top. I had put together pictures from being pregnant with him, to current day and ran it on the screen to a song I sang to him as a child called "Apron Strings". I then talked about how I was taking my new role behind he and his wife, and that he had new obligations and allegiances and I was great with that. I then took a pair of scissors out of the pocket of the apron and to the gasps and sighs of our guests, I cut the apron strings and presented them to my new daughter-in-law. "He was tied to mine for almost 30 years. Now, I cut these and present them to you. May you both bring each other peace and happiness and abundant love, and my prayer is that I never forget my place in your life."
I did this after listening to your program for years and hearing the complaining from mothers who had never learned to let go. I'm happy to say after 18 months of marriage, my daughter-in-law still seems to love me, calls me for recipes and advice and I seem to be doing ok. No grandchildren yet, and no signs of getting ready for any, but if you can keep a secret; I'm already using one of the spare bedrooms in our house and secretly decorating it in my head. C'mon they're 31 and 30, they have to make a move here shortly right?!
Life is good when you acknowledge your place and role in it.
Love you Dr. Laura, you've taught me how not to be stupid!
Susan
Posted by Staff at 11:00 AM