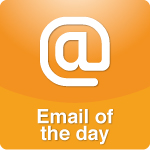 July 18, 2019Parenting Win
Hi Dr. Laura:
I thought of a clever way to teach my child to respond to someone who gives him a gift, but not in person. My son often received gifts or checks by mail, as we didn't live close to other family members. When he received anything, the rule was he could not play with the gift or cash the check until he either thanked the giver by phone, or when old enough, wrote them a thank you note.
It worked well for us, even when he was young. Now that he's an adult, he's still thoughtful, and always calls or writes notes right away after receiving gifts!
Katy
Remember, all of you can send me "letters" too - by email! Just sign into (or sign up for) the Dr. Laura Family - it's free - and tell us of your experiences.
Posted by Staff at 10:59 AM