February 7, 2012Helping With His 'Honey-Do' List
Hi, I'm Dr. Laura Schlessinger. Welcome to our YouTube channel. We have a question from Nichelle:
"My husband is going on vacation for 2 weeks [Without you? Okay.] and, as a surprise for him while he's gone, I'm planning on having some work done to our home...fix the floor, remodel, trim the trees and bushes, etc. I was going to have family help with these things to keep costs down. I have previously mentioned the things to him that I plan to do. He works long hours 6 days a week so I can stay home with our 14 month old baby. I love him and appreciate his hard work and thought this would be a nice way to help him out with things that he doesn't have time for. Do you think that this is a good idea?"
No. I think it's going to...even though he doesn't have time and these things do need to be done...I worry that it's going to leave him with the feeling of not being needed, of being a failure, of not having followed through for you and of not being able to do 16 things at one time. I don't think so, if...no...no [Laughs]. I don't know how else to say "No."
Now if you know he has a hobby but doesn't have the time to put together the wherewithal to do this hobby...like nuts and bolts, screws and hammers, and saws and drill presses and what-have-you that guys like to play with. Whatever these things are, you might want to set up a little hobby area for him. You can remodel that so that he gets rewarded for his hard work, he can come home and fiddle...whatever it is that he likes to fiddle with. Maybe its paint, so you get paints and an easel and some class for 6 weeks.
I think you should set up something for his R&R but I don't think that you should do the things that really he knew he should be doing because I think it's going to make him feel bad. I wouldn't take the risk. Do the hobby thing. I think that's guaranteed.
I'm Dr. Laura Schlessinger. Until next time, right here, go do the right thing.
Watch: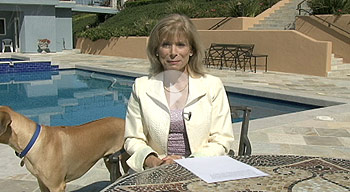 Or watch other videos at youtube.com/DrLaura
Posted by Staff at 10:53 AM