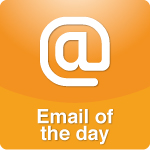 January 23, 2013After All These Years
Dr. Laura:
Thank you for all your good advice. You have helped me be my husband's girlfriend and my children's mom.
At dinner recently, I told my husband I loved being his wife and girlfriend. He looked at me and said "You're not my girlfriend; you're my
wife
." At first, I was disappointed, and explained what I meant. Then he said, "Debby, 24 years ago you did me the honor of becoming my wife. I didn't want any more girlfriends. I wanted you to share my life with me through everything bad and good. Girlfriends don't stick around for life." He then told me how much he loved me and how happy I make him. He knows what I do for him and our family, so he has everything he has ever wanted.
This touched me deeply. I know he loves me. He works hard for me and our family. And I knew I was on a pedestal, but it was an amazing feeling to hear that I
still
make him feel that way after all these years. It melts my heart.
Dr. Laura, you have helped me become this person, as my mom was married 5 times, and she was not exactly the role model I needed. I am so fortunate to have found you.
Thank you!
Debby
Posted by Staff at 3:17 PM