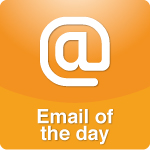 April 5, 2013Thanks for Your Backbone
I just subscribed to your podcasts so I can listen to all your archived programs and it was not a minute too soon! Listening to you all day at work sure does give me some grit. I'm no delicate flower to begin with, but hearing your logic in emotional situations all day helps me to really step back.
For the first time in my 25 years, I broke up with a guy when I saw the ripples instead of waiting for the whole tidal wave to come down on me before I made a decision. I want a real man who respects, honors, cherishes, and takes care of me. Thanks to you and several model couples in my life, I've become celibate and will never shack up again.
Today, after hours of your advice were alternately softly spoken and yelled through the computer at me, I had total clarity about a guy I just started seeing. I was able to see that his pushing to see me when I'd asked him to back off wasn't sweet because he missed me. It was disrespectful. Instead of downplaying my irritation at dumb comments he made, I sat back and thought about whether or not I wanted to deal with that for the rest of my life.
So here I am, about to head to dance practice, single, and thrilled. Thrilled because today, I decided to invest no more than two dates in a "loser" instead of a whole year! This backbone I have borrowed from you - well, I hope you have another, because I don't think I'm ever giving it back. Thanks for guiding this often too-forgiving girl!
Carrie
Posted by Staff at 10:37 AM