July 27, 2010Tip of the Week: November 22nd, 2009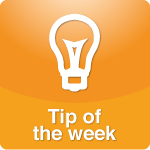 Toddler Treat: Cranberries
By Cheryl Tallman and Joan Ahlers
Toddlers love to play with their food. Dipping sauces make foods taste good and provide your child with an activity that makes meals and snacks more fun. Here are two recipes for yummy dipping sauces - one for fruits and another for veggies, tofu and meats.
Creamy Cranberry Dipping SauceIngredients:
frac34; cup 100 percent cranberry raspberry (or grape) juice
frac12; cup sour cream
frac12; cup vanilla yogurt
Directions:
Place juice into a small saucepan. Boil until reduced to a syrup (about 3 tablespoons). Allow to cool. Add syrup to remaining ingredients and stir to combine. Chill and serve with a variety of fresh fruit slices.
Cranberry Mustard Dipping SauceIngredients:
frac12;cup jellied cranberry sauce
1 frac12; tablespoons grainy Dijon mustard
1 tablespoon brown sugar
Directions:
Combine ingredients in a small mixing bowl, whisking until smooth. Serve hot or at room temperature. Serve with raw/blanched veggies, baked tofu, chicken fingers or fish sticks.
All about cranberries
The cranberry is a Native American fruit that grows on trailing vines like a strawberry, and thrives in wetland areas, called bogs. Cranberries are harvested in September and October. The most common technique for harvesting is known as a "wet" harvest, which involves flooding the bogs with water to float the fruit for easy collection. During the winter the frozen water insulates and protects the vines.
The North American cranberry has a distinguished history. Native Americans used cranberries as food, in ceremonies, and medicinally. Revolutionary War veteran Henry Hall planted the first commercial cranberry beds in Dennis, Massachusetts in 1816. Today they are farmed on approximately 40,000 acres across the northern United States and Canada.
Cranberries are available in a variety of product forms including: fresh, juice, dried and sauce. Cranberries are considered a healthy fruit. They contain no cholesterol and virtually no fat, and are low in sodium. In addition, they contain significant amounts of antioxidants and other phytonutrients that may help protect against heart disease, cancer, aging and other diseases. Cranberries also contain bacteria-blocking compounds that are helpful in preventing urinary tract infections, and possibly ulcers and gum disease.
Age to introduce: Over 12 months (cooked/juice/sauce). Over 18 months (dried).
Cranberries for the family
Cranberry up your Thanksgiving meal by trying some of these tasty and simple ideas.
Football snack: Add dried cranberries to any nut mixture.


Salad: Sprinkle dried cranberries on mixed green or spinach salad. The sweetness of the cranberries is terrific with any vinaigrette dressing and is a great compliment to crumbled blue cheese or goat cheese.


Side dish: Add dried cranberries to your favorite stuffing, wild rice, or couscous recipe.


Veggie: Sauteacute; onions, diced zucchini and dried cranberries in olive oil. Season with a dash of turmeric, cinnamon, and rep pepper flakes. Great taste and awesome color!


All American apple pie: Add frac12; cup of fresh cranberries to your favorite apple recipe.


Treat the whole family to fresh cranberry sauce. Here is a simple recipe that can be made ahead of time.
Easy Cranberry Sauce: Ingredients
16 ounces fresh cranberries
2 cups granulated sugar
frac12; cup cranberry juice
frac12; cup fresh orange juice or water
Directions:
Combine ingredients in a saucepan. Cook over medium heat until the berries pop open (about 10 minutes). Skim the foam off the surface with a metal spoon and discard. Cool to room temperature.
Storage:
Refrigerate, covered, for up to three months.
About the authors:
Cheryl Tallman and Joan Ahlers are sisters, the mothers of five children, and founders of Fresh Baby (
www.FreshBaby.com
). Raised by parents who love fresh foods and entertaining, their mom, a gourmet cook, ensured that they were well-equipped with extraordinary skills in the kitchen. Both with long track records of business success, they decided to combine their skills in the kitchen with their knowledge of healthy foods and children to create Fresh Baby. Cheryl and Joan put a modern twist on the conventional wisdom that when you make it yourself, you know it's better. Their goal at Fresh Baby is to make the task of raising a healthy eater a little bit easier for all parents. Fresh Baby's breastfeeding accessories and baby food making supplies provide parents with practical knowledge and innovative tools to support them in introducing their children to great tasting, all-natural foods easily and conveniently. Visit them online at
www.FreshBaby.com
and subscribe to their Fresh Ideas newsletter to get monthly ideas, tips and activities for developing your family's healthy eating habits! Permission granted for use on DrLaura.com
Posted by Staff at 7:22 PM