July 27, 2010Tip of the Week: April 5th, 2009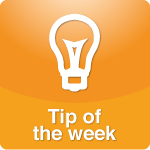 Purchasing andPreparing Lamb:
The Basics You Need To Know
Provided by theAmerican Lamb Board
americanlamb.com
The family is coming over for a festive spring dinner but you don'twant to serve yet another casserole#133;How about Lamb? It seems soelegant, but it really is easy, especially if you are armed with thebasics.
What To Look For When Purchasing Lamb:
Lamb is widely available in grocery stores and gourmet food retailersacross the country. When shopping, look for American Lamb as ittypically yields more meat on the bone than imported lamb. Also, mostAmerican lamb is fed mixed grains and grasses giving the meat a milderflavor than its European counterparts. When shopping for a cut, lookfor meat that has a soft pink to red coloring with white marbling.
How to Store/Freeze Lamb:
Fresh lamb should be stored in the refrigerator or freezer immediatelyafter purchasing. Refrigerate fresh lamb at 40 degrees Fahrenheit orbelow. Ground lamb or stew meat should be used within 2 days. Lambchops and roasts should be used within 3 to 5 days. If you plan tofreeze lamb for long periods of time, be sure to wrap the originalpackaging with airtight freezer wrap or place in an airtight freezerbag to prevent freezer burn. To maintain optimum quality, frozen lambshould be used within 3 to 4 months.
How to Thaw Frozen Lamb:
In the refrigerator - oncefrozen lamb has thawed in the refrigerator, lamb roasts and chopsshould be used within 3 to 5 days and ground lamb or stew meat shouldbe used within 1 to 2 days.
In cold water - leave frozenlamb in its packaging, making sure it is air tight. If not, transfer itto a leak-proof bag. Keep the lamb submerged in cold water, changingthe water every 30 minutes to continue thawing. Cook lamb immediatelyafter thawing. It should not be re-frozen unless cooked first.
In the microwave - As withthe cold water method, when frozen lamb is thawed in the microwave, itmust be cooked immediately. It should not be re-frozen unless cookedfirst.
CookingLamb:
For those that don't have alot of experience cooking with lamb, determining when it is done is thebiggest challenge. An overcooked rack of lamb is an expensive mistakeand carving into an undercooked roast can be an embarrassment at adinner party. Don't rely on guesswork - a good meat thermometer willprovide reliable results. DO NOT cut into a roast or chop to checkdoneness. Use an instant read thermometer to give you a quick, accuratereading.
Lamb, like any cut of meat,always benefits from rest before serving - the rest allows the meat'sjuices to settle. Give thin cuts like chops five minutes before servingand allow 20 minutes before carving roasts. Keep in mind, as the meatrests, its internal temperature typically rises 5 to 10 degrees. Removelamb from cooking heat when the thermometer reads 5 to 10 degrees lessthan your desired temperature.
To ensure lamb remains safethroughout cooking, the USDA makes recommendations for safe cookingtemperatures.
For recipes and approximatecooking times for use in meal planning, visit
americanlamb.com. Permission granted for use on DrLaura.com





Posted by Staff at 7:22 PM