June 30, 2011Spectators and The Course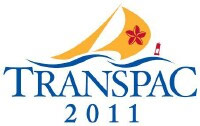 from: transpacrace.com
The Transpac Race offers excellent venues for the general public to view both the start and finish of the Race. The start of the race is staggered over the period of a week to allow the slower boats to arrive in Hawaii about the same time as the larger and faster boats. For the start spectators can view the boats from the park above the bluffs at San Pedro's Pt. Fermin. During the starts spectators will be able to view the fleet in large groups as they are sent on their way to Hawaii. It is a different story for the finish as boats usually arrive one at a time after racing 2225 miles across the Pacific. The viewing however is spectacular from the Lighthouse on Oahu's famous Diamond Head volcano. With the tradewinds blowing strongly the race boats surf past Diamond Head buoy under spinnaker often in speeds exceeding 20 knots!
from: transpacrace.com
Starting off Point Fermin at the southern edge of Los Angeles, the challenging race course takes competitors through a myriad of unforeseen conditions: from the cold, wet northeastern Pacific, through doldrums, enormous seas, abundant squalls and scorching heat, to the blustery tradewinds of the Molokai Channel near the finish.
After a long and grueling voyage across a lonely expanse of ocean, the racers arrive to the warm "Aloha" greeting promised by the King; honored to this day by scores of island volunteers, visitors, media and supporters.
Posted by Staff at 12:00 AM