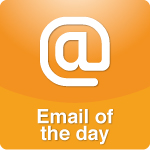 I've been listening to your show for 22 years, and I've been married for 27 years. When my husband and I decided to have a baby, I never thought much about being a stay-at-home mom, because I never thought we could afford for me not to work. I really liked my job and never thought of being a full-time mom until I started listening to your show. Well, it didn't take long for me to be miserable and not so happy with the job I loved.


Hearing you tell other moms that they shouldn't have children if they didn't want to raise them, I started noticing behavioral traits in my daughter that were like what you said "daycare kids" exhibited. That's when we decided to find a way for me to stay home and we did. We listened to you on the radio in the car so much that at three years old, my daughter couldn't write or spell her own name, but she could say "1-800-DR LAURA!" I went on to have another child, and I was his stay-at-home mom and the room mother for his class. I did all the wonderful things stay-at-home Moms get to do, and it was the best decision we ever made.


My daughter is now a college graduate and my son is a junior in high school. Keep up the nagging, because it works!


Morgan


Remember, all of you can send me "
letters
" too - by email! Just sign into (or sign up for) the Dr. Laura Family - it's free - and tell us of your experiences.