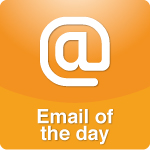 I've been married for 32 years, and my husband and I have had the privilege of raising two daughters. I stayed home with them and jumped in with both feet, teaching religious education, being a "room mom" at school, baking cupcakes, and getting up at the crack of dawn for years to make lunches for them. It was important that we ate dinner together every night that was possible, and we MADE it possible.

Looking back now that are girls are educated young adults, happy and living on their own, I am so glad we made them a priority. When others see our family, however, they tell us how "lucky" we are. I'm tired of hearing that word. My husband and I are happy and when we're in a crowd or at a party, it's noticeable. He still has that twinkle in his eye and he still touches the small of my back as he leads me into a room, but I guess we're just "lucky." We talk, laugh and respect each other. We've learned the art of give and take. When he trips, I grab his arm. When I stumble, he catches me. We still hold hands. But I guess we're just "lucky."

That word has consistently been thrown at me throughout my life. Having a good marriage and still being deeply in love is just "luck," I guess. Having two kinds, respectful, giving, well-adjusted daughters is just "lucky." The people who toss that word at us don't have what we have. They're envious. They didn't work for it as we did, but it's easier to think that all these blessings are just a roll of the dice. But we know they are not. So, as I finish this email, I'm running upstairs to freshen my lipstick before my husband gets home. I plan to look in the mirror and smile at my roll of the dice!

Julie



Remember, all of you can send me "letters" too - by email! Just sign into (or sign up for) the Dr. Laura Family - it's free - and tell us of your experiences.