The San Diego to Puerto Vallarta race (PV 2012) hosted by San Diego Yacht Club is a biennial event which starts off San Diego's Shelter Island and finishes off Punta Mita in beautiful Banderas Bay, Mexico. The conclusion of the 1000 mile race will be on the picturesque beaches of Nuevo Vallarta, just minutes north of Puerto Vallarta.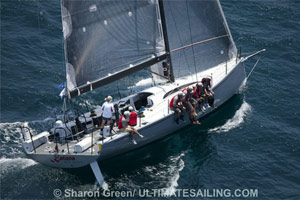 Some boats will start the race March 1st. Katana, Dr. Laura's boat pictured above, begins the race March 2nd at 11:55am

More: History of the race
The 22nd edition of the MEXORC (Mexican Ocean Racing Circuit) regatta and the Regatta Copa Mexico will follow the 2012 San Diego to Puerto Vallarta race. MEXORC and the Regatta Copa Mexico are a joint effort between the Mexican Government and the Mexican Sailing Federation. It is a great international event in Banderas Bay (Puerto Vallarta and Nuevo Vallarta area) with seven days of racing over eight calendar days in one of the finest sailing venues in the world.