From: Dr. Laura

This photo was taken Saturday of my race boat, Katana, and the crew. You can watch their progress at: http://live.adventuretracking.com/transpac2011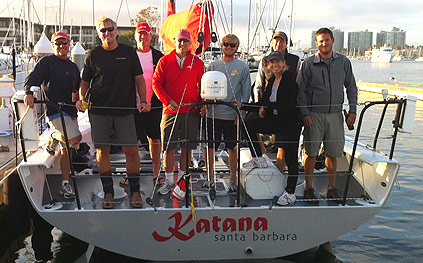 From left to right:
Kevin Miller (tactician); Dave Young (grinder); Dave Oborn (bow); Paul Wolthausen (pit); Cody Schlub (17 years old!) (bow); Sam Solhaug (trimmer); Kit Will (boat captain); and me (skipper and driver)
KATANA
is Japanese for the sword of the samurai - honor, courage, perseverance.
We have been doing weekly overnights to test and practice all equipment and ourselves. We have become a well-oiled machine… with a grand sense of humor - which you need when you're doing four hour shifts; 9 people and a 47 foot boat with sometimes challenging winds and seas and sometimes bobbing around in no wind.
July 2 is a send off party given by the Long Beach Yacht Club
July 6 the crew makes their way down to Long Beach. We will take Katana out on July 7 for one last shake-down. July 8 is our start at 1 pm.
If you're interested in watching an amazing site: 53 boats and lots a hoopla for the start ... Check out
Transpac 2011 website
. We'd love to have you come cheer us on!