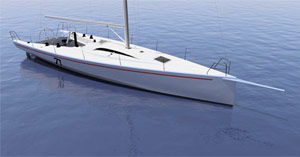 Scroll to the bottom of the page and ask your question to Dr. Laura regarding the Transpac Race she is preparing to do and we'll post her response.
Watch Dr. Laura and Katana's progress here
Posted by Dr. Laura
To all of you wishing us well – bless you and thank you.
Posted @ 7/6/2011 by Ellie
Hi, Dr. L-I am a "forever listener" ; love your program and your values. We are all behind you and will celebrate with you, vicariously, at the end. What an adventure!!! May the wind be at your, wherever it's supposed to be and G-d speed.
P S : May I borrow your Tryke while you're gone??? LOL
Posted @ 7/6/2011 by Carolyn
I'm curious to know about the process of navigation. Is it accomplished primarily through instrumentation and, if so, are you required to have redundant systems on board? Are you required to report your position at specific intervals as a safety measure? Do you or your crew know how to navigate w/o instrumentation should you find yourselves in the position of not being able to rely on instrumentation? (But, please, stay safe because we need you. Best of luck to you and your crew, I'll be rooting you on!!!)
Posted @ 7/7/2011 by Dr. Laura
Navigation alone is accomplished through redundant instrumentation. we have an instrument system on board that keeps track of everything from boat heading, to boat speed to performance of the boat. This in itself creates a log whereby we have a "deadreckoned" idea of our location. In addition, we have multiple GPS (Global Positioning) devices which repeatedly provide our exact location. Finally, we have a transponder onboard that gives the race committee and fans our exact position which is delayed by 6 hours for tactical purposes. We also have a traditional handheld compass on board.
Posted @ 7/6/2011 by Susi
Fair Winds and Following Seas, Dr. Laura!
Posted @ 7/6/2011 by francoise
Sail well....
Posted @ 7/5/2011 by Cassie
Best wishes for no crew seasickness! Watching your last race from Long Beach to tip of Baja opened up a whole new world for me...I was worried for a bit upon realizing you (and almost half of the rest) were in some sort of trouble but those little colored toy boat symbols leaving colored tracks behind them while moving over the satellite image of the ocean where I could see it's mountains and valleys, totally captivated me. I watched the routes the leaders took and noticed they ran just outside the edge of "the continent" as it drops off into a trench. Do the underwater land masses and their depths affect course plotting and speed? Do you talk about your course with other boats before the race? Does your husband sail? Thank you for sharing this Dr Laura, I think it's the best reality show around.
Posted @ 7/6/2011 by Dr. Laura
All but one of us, Kit Will (boat captain) put a scopolamine patch behind the ear for seasickness. Kit is somehow immune to that horrid phenomenon. Side effect is dry mouth which makes food taste yuckky…but it is a good trade off to being ill!
The wind for the first group who left Monday, July 4th has been disappointing. We are hoping that by Friday (our start) things will have improved. We are not fond of "bobbing".
Boats do not share information about "plans" and "navigation" because it is a competitive race.
My husband is quite happy to let me do the sailboat thing while he waves "bye." He supports my passion but would rather go target shooting!
Posted @ 7/5/2011 by Sarah C
What sort of wild life have you experienced since being out at sea? Have you seen any dolphins, whales or sharks? How do they react to the boat?
Posted @ 7/6/2011 by Dr. Laura
Dolphins absolutely love to swim with the sailboat…they play mostly around the bow; rotate and look up at us. In the evening phosphoresence it is a beautiful sight. On the CABO race last year we saw whales and absolutely giant sea turtles, flying fish, sea lions, and one shark fin. We keep a distance from the whales when possible (and they do the same with us).
Posted @ 7/5/2011 by Alecia
How do you recharge the boats batteries, especially since you've got the power-hogging microwave? You can't run an outboard motor to do this and not be disqualified can you? A wind generator would cause drag, wouldn't it? Solar? Thank you for clearing up this mystery. Best of luck to you and your crew!
Posted @ 7/6/2011 by Dr. Laura
For a certain amount of time each day the engine is turned on but only in neutral in order to re-charge batteries. We have a water maker and a microwave (to be used sparingly…). All boats are permitted to do this as batteries have to be recharged for lights (required at night), instruments, etc.
Posted @ 7/5/2011 by Arturo
Hello Dr. Laura; "break a leg" or whatever is appropriate to wish a sailor success! Other than for "medicinal purposes," will you have any alcohol aboard? And if yes, how will you limit it so that no one gets sloshed and cannot perform their assigned duty?
Posted @ 7/6/2011 by Dr. Laura
There are absolutely no adult beverages permitted during a race – ever. We can never afford to compromise anybody's performance…lives are at stake. When we arrive in Honolulu…all bets are off! Hahaha
Posted @ 7/3/2011 by Jo
1. Other than the symbolism why the name of the boat is a Japanese sword and who came up with it?
2. When did you start sailing (since you will be the skipper and strategist that is a pretty bold adventure)? Is this a lifelong pursuit, or a daring do?
3. How did you select your crew?
4. As you have a background in nutrition, how does she plan to "power" her crew nutritionally on this grueling journey?
5. I saw your crew throw you in the pool at LBYC- what are their plans to celebrate in Hawaii?
Posted @ 7/6/2011 by Dr. Laura
1. I came up with the name "Katana". It is Japanese for "sword of the samurai." This implies courage, persistence and honor.
2. I started sailing some 7 or so years ago. When I do anything it is 250% and I worked to learn quickly. The day before I decided to "try out sailing" I thought it was a silly sport. Fell in love with it the first day. I am skipper but I have a navigator and a tactician for races. This is "daring do".
3. The crew is a product of sailing with folks for 7 years and finding the combination of talent and personalities that works the best. These are good guys: work hard and are lovely people.
4. We have the top of the line freeze dried food with correct calories and nutrition used by people in intense sports.
5. When we make it to Hawaii I intend to go snorkeling, climb diamond head, jump waves, etc. There will be parties and dancing for the transpac folks.
Over half the crew has done at least one Transpac...there is a tradition of "hazing" those who have not done a Transpac before when we hit half-way. I have already warned my crew water can go over my head but I better not be in it.
Posted @ 7/2/2011 by Steve
Dr. Laura, Have enjoyed your program since I first heard it in 1993 as I sailed past LA on my first trip to Mexico on my sailboat. Glad you are doing the Transpac. A great adventure, for sure. Wish you well and am sure you and your crew will do well in that rocket ship you had built. Go for it. Steve.
Posted @ 7/2/2011 by kat
Have fun and good luck! As a "sailor" on the "concrete sea", (truck driver), I understand the potty difficulties, and being able to cook. Nice boat! I have learned a lot from listening to you. Safe sailing, and God's speed.
Posted @ 7/1/2011 by Alecia
I always thought you were a truly remarkable woman. Because I'm also a sailor, now I'm going to have to put you on an even HIGHER pedestal. God bless you and your crew. Sail fast and I wish you steady, strong winds and following seas!
Posted @ 7/1/2011 by sarah
Will you ever get to shower while you race? How do you take care of your skin with the salt water splashing on it all day?
Posted @ 7/1/2011 by Dr. Laura
I am bringing baby wipes for "quickie" clean ups and I have a hand held hot water shower in my very small "head" (boat bathroom)...
Posted @ 7/1/2011 by Gerald
I was just wondering if there are any special preparations associated with your Jewish religion. Thanks and God Bless.
Posted @ 7/1/2011 by Dr. Laura
I am no longer practicing orthodox Judaism.
Posted @ 7/1/2011 by koalakids
I just want you to know how proud I am of youvand all the prayerful conscious healthy decisions you make every day thank you happy safe sailing. I'm excited to see all of your answers about the prep of the trip.
Posted @ 6/30/2011 by anne curtin
How do you get your sailboat back from to where you live at the end of this long race and/or to different sites for different races?
Posted @ 7/1/2011 by Dr. Laura
My boat captain (Kit Will) and some of my crew are going to motor-sail it back…that should take two weeks because it is mostly upwind. In general I race only in Southern California because of time restraints (I work!), financial issues (self-explanatory) and I have so many other hobbies, interests, and activities.
Posted @ 6/30/2011 by Catherine
I'd love to hear the story of how you assembled your crew.
Posted @ 7/1/2011 by Dr. Laura
See below under Donna's post on 6/29
Posted @ 6/30/2011 by Funance
What is the make and brand of boat you will be using? Why did you choose that one?
Posted @ 6/30/2011 by Dr. Laura
I custom build a boat: Kernan-Courouble designed 47' state of the art raceboat. I analyzed the pros and cons of all existing possibilities and decided none had all the qualities I desired. When Tim Kernan - architect– and I first met he asked me what he asks each and every new client/skipper: "What is the most important central feature you desire?" That was nooooo problem to answer. After doing the race from LA to CABO SAN LUCAS last year and losing about 8 pounds...I answered quickly, "A MICROWAVE!" That was a first for him...and I have one!
Posted @ 6/29/2011 by Jason
What kind of 'worst case scenario' can you prepare for? What type of emergency back up do the race promoters and organizers provide, if any. How does it work?
Posted @ 6/29/2011 by Dr. Laura
The worst case scenarios are the boat sinking or somebody having a major medical issue. If the boat were to sink (which is highly unlikely) we have a life raft aboard with food and medical supplies as well as flares and electronic communicators to let rescue ships know where we are. If someone had a serious medical issue we do the best we can to provide the proper care, communicate with medical personnel, and turn the boat towards help. Now, we will be in the middle of the Pacific Ocean so help may not be quickly available. That frankly is simply the nature of the experience. We do the best we can.
Posted @ 6/29/2011 by Steve
Dr Laura, Wishing you and your crew all the best it really sounds fun. You mentioned on air you will be communicating via Sirius XM though short updates audio clips we can upload or hear on the site,facebook posting, and your website and I guess we can progress though the Transpac website. Will the audio clips be free to everyone or only Family Plus Members. Thank you and again have a good time.
Posted @ 6/30/2011 by Dr. Laura
All updates about my adventure will be on my website FREE. Thank you for your kind support.
Posted @ 6/29/2011 by Debi
On the air you a couple months ago, you mentioned the name of your "control manual" that goes with you on the boat. It was a standard operating procedure type of binder. You had a really cool name for it, that I wanted to use for my manual too. What was the name of it? My daughters and I have a blast following your journey online. Thanks for all you do, big and small. Happy sailing and godspeed your adventures, Captain!!
Posted @ 6/29/2011 by Dr. Laura
It is not a control manual...it is the SACRED BOOK. It has all legal international and race rules/regs. All information medically, etc. about the crew and all the required information about KATANA. Also all reservations at hotels/airplanes...in other words EVERY PIECE OF INFORMATION WE COULD POSSIBLY NEED.
Posted @ 6/29/2011 by Donna
How did you go about assembling your crew for the Transpac Race?
Posted @ 6/29/2011 by Dr. Laura
Most of the crew have been sailing/racing with me for years (Sam Solhaug, Kevin Miller, Eric Bohman, Paul Wolthausen, Kit Will) while Dave Young, Dave Oborn, and Cody Schlub (17 years old) are relative newcomers to my program. Basically, past experience and lots of "testing experience." We've raced with a number of folks and then Kevin Miller (tactician, my racing coach, and co-designer of KATANA) evaluated crew member's inherent abilities and attitude and how they fit into group cohesion. We have crew for shorter races and buoy races which might vary in composition. Ultimately, they have to be good at what they do on a boat, and get along with everybody (7-10 days of 9 people in 47 foot space). And I, as skipper and boat owner, can veto or reverse a decision. The very few times I have done that, it worked out great. I had the option of getting all experts aboard. I declined. It is as important to me to "have a grand time with my buddies" as it is to potentially win or place. I would rather lose and have had a great time than win and rue every annoying moment. Of course, having a wonderful time and winning is good too! For me – this is a challenge and an adventure. This is the first TRANSPAC for half the crew. We will do our best. We have practiced and practiced...over nights mostly. We feel ready. We feel excited. If we don't win or place this time, watch out for next time!
Posted @ 6/28/2011 by andrea
What kinds of food do you eat while racing?
Posted @ 6/29/2011 by Dr. Laura
The crew consumes an enormous level of calories daily because we are working all the time. The "watches" are four hours up on deck and four hours eating/getting sleep. Freeze-dried food is always available and warm so folks can grab some scoops of it whenever they're hungry. The meals are actually pretty good... though the guys drown the stuff in spicy sauces. Also, we have power bars and other snacks to keep energy up.
Posted @ 6/28/2011 by delia
How do you sleep with a life vest on?
Posted @ 6/29/2011 by Dr. Laura
We don't have life vests on in our bunks – only on deck at night (when we are also tethered if the sea if at all rough) or daytime if the sea is rough. To sleep, all heavy clothes are off. We have comfy sleeping bags which are extremely light weight but can keep us warm in serious cold temperatures. The bunks are constructed to cradle us. If there were a problem…everyone has their life vest in their bunk with them to be put on in an emergency. We are all careful about safety. We have all heard the stories of what can happen if you're not attentive to safety details. The life vests we wear are compressed... and expand only IF they hit the water. We are all very experienced and careful about staying aboard – but if someone were to go overboard we have procedures that are immediately employed to rescue that crew member. The last time we practiced man overboard exercise, I was the overboard crew member. That water is c o l d! We are going through that exercise again before the race...and I'm not volunteering! hahahaha