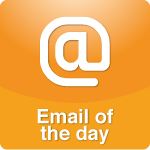 Dear Dr. Laura,

I was so touched by Kathleen's e-mail about their 6 children, and worrying about the really important things in their future...whom they will marry, for instance. I thought about those decisions, too, with our 3 sons. We prayed a lot!! Some years back, I dreamed about having a baby again, and nursing him, so close and warm and loving, his little hand pressing against my breast, the smell of his skin, and humming a little tune as he nursed. I woke up crying, realizing since I'd had a partial hysterectomy, there would be no more babies to nurse.

Now, in their 50's, thank God, the two who are married chose wisely, and with their wives are amazing parents to their children, combined, 12 and counting. They have said what they learned from their Dad...how to enjoy life, but they have never mentioned what they learned from me, and I'm too bashful (and afraid) to ask. Their Dad taught them so much more...deep trust in Jesus Christ, integrity, doing a job well, standing up for what's right, being kind and loving, and a clean, appropriate, clever British sense of humor that can put us all on the floor, laughing uncontrollably.

I am so blessed...

God bless you. Keep up the good work!

R.
Widow of WWII Air Force Veteran
Mother of 3 sons
Grandmother of 12 and counting
Retired Public School Teacher, 28 years AFTER the boys were grown!