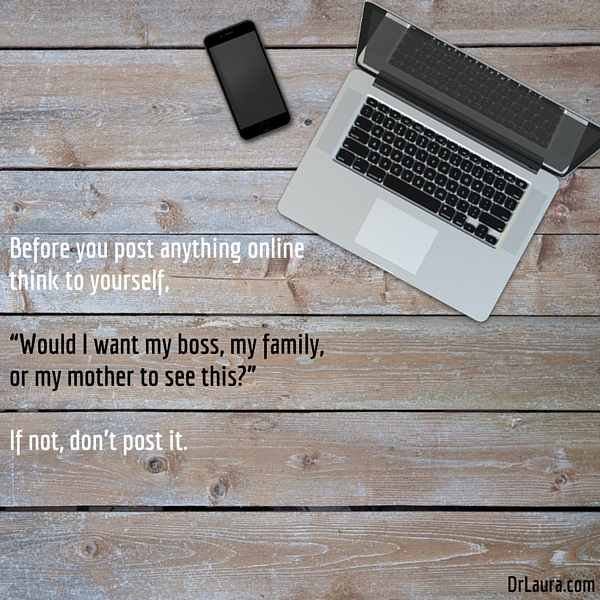 Your relationship problems. It's damaging and it's only one side of the story. And there is such a thing as privacy.

Your relationship status. Do you want to give your stalker the green light they've been waiting for while simultaneously letting them know that you're more likely to be home alone?

Naked baby photos. Although they can be super-cute and adorable, they shouldn't be on Facebook. There are perverts out there.

Embarrassing stories about someone else. If you want to share something embarrassing that happened to you, go ahead, but don't humiliate somebody else. It's not funny.

Personal information. Don't be dumb enough to post your address or other private information.

Secrets and lies. Don't post something that you don't want the world to see. If you hate your job or lied about being sick, it's not a good idea to post it. It will come back to bite you.

Someone else's news. There are things that other people don't want on Facebook - maybe they're pregnant, moving, or getting married. It's their news to share, not yours.

Your location. Don't post your current location. I just love when people snap a shot and say, "Right now, I'm at…", or, "Hey, I'm going on vacation on the 25th of August. Please, come rob me."

Work problems. Talking about work-related issues on social media is a bad idea. Even an innocent status update about how mad you are about missing a deadline on a project can provide valuable information to competitors.

*When in doubt, before you post anything online think to yourself, "Would I want my boss, my family, or my mother to see this?" If not, don't post it.
Want more Dr. Laura? Join the Dr. Laura Free Family to listen to Dr. Laura's daily Call of the Day and receive her Daily Dose newsletter!