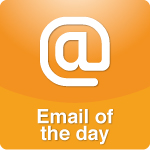 ...My husband and I married young, I often use the phrase, "Don't regret it, Don't recommend it." One thing my dad did say to me during our engagement was, "I'll never have to worry about you financially. Your husband-to-be is a hard worker." ...
More >>
Tags: appreciation, Attitude, Behavior, Gratitude, Husband, Motivation, Values
PERMALINK | EMAIL | PRINT | RSS

This is a letter I gave to my daughter right before she married:
I have always tried to be a model for you of what it is to be a good wife. After all these years I am still in love with your father, more than ever. I hope you will be just as happy in your marriage.
More >>
Tags: husband, Marriage, wife
PERMALINK | EMAIL | PRINT | RSS

I had only just begun your book The Proper Care and Feeding of Husbands when I ran into a communication problem with my husband and wanted to be sad or angry, but stopped myself to reflect. I had just bought a new dress'you know the style where the waistline is just under the chest area and it can create sort of a "preggy" look.
More >>
Tags: Character, Courage, Conscience, Character-Courage-Conscience, Husband, Men's Point of View, Morals, Ethics, Values, Motherhood, Motherhood-Fatherhood, Pregnancy, Values
PERMALINK | EMAIL | PRINT | RSS

Recently, you finished a call with a mother of 3 who didn't feel motivated. You responded to her about farmers having to go out in the rain and that they didn't have the luxury to feel "motivated" to take care of their farms and children.I laughed because I have 16 goats and 2 dogs. They are all my beloved pets more than "workers". When the weather is bad their only source of food is me...
More >>
Tags: Attitude, husband, Marriage, Morals, Ethics, Values, motivation, Personal Responsibility, Read On-Air, Response To A Call
PERMALINK | EMAIL | PRINT | RSS